RPA Collaboration: RPA Roles and Team Management
Collaboration as a success factor for enterprise RPA
The more RPA users there are, the faster the degree of automation increases. To successfully implement RPA, organizations must be able to control RPA users and RPA teams.
Nearly half of all RPA projects fail due to a lack of collaboration. Successful process automation requires interdisciplinary skills. The high diversity of RPA roles and expertise results in international, interdisciplinary projects.
For this reason, Servicetrace has developed the X1 platform as a central, controllable collaboration platform for enterprise RPA from the very beginning. With X1, you can bring all parties involved in RPA together on a single platform and enable and control their collaboration – transparently, traceably, and across borders and time zones.
X1 Collaboration Management: The Central Aspect of RPA Management
---
The X1 enterprise RPA platform features mature collaboration management functions. This enables organizations to manage all relevant aspects of RPA users, teams, and their collaboration centrally and transparently. In this way, they can make optimal use of existing RPA competencies and capacities and increase RPA success.
User & Team Management
Manage interdisciplinary teams globally: The integrated time zone management simplifies team collaboration as well as global bot operations.
Role and Authorization Management
With X1, you can define RPA roles, responsibilities and, privileges at the process, team, and project level with just a few clicks.
Process & Project Management
Define quickly and transparently who is responsible for which process or project phase and how release and handover processes are carried out.
Team Dashboards & RPA Controlling
Manage and control all aspects of team collaboration and create a unified view of RPA results with team dashboards.
Three Important Advantages of X1 Collaboration Management
---
1. Greater transparency & governance
As a central collaboration and management platform, X1 increases transparency of the RPA teams and their progress and results.
2. High effectiveness
X1 Collaboration Management increases the effectiveness of the RPA teams, which work on jointly defined goals with clear tasks and responsibilities
3. Security & compliance
They manage all necessary user data, RPA roles, authorizations, and collaboration processes securely and traceably.
RPA Roles: Manage Responsibilities and Privileges
---
The XceleratorOne platform features standard roles on board. You can change, supplement, or replace these roles, of course, because every organization is different. The following roles provide an initial overview of possible functions that should be involved in your RPA projects.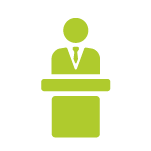 Business sponsor
The business sponsor is a decision maker on the business side of the organization who supports automation and drives it from the management side.

Process owner
The process owner is responsible for the process and acts as its "owner". They are also responsible for process modeling and use X1 to perform a cost-benefit analysis for automation.

Project manager
The project manager or business analyst defines the process in detail with the business user and generally keeps an eye on the project progress, the team, and time and budget targets.

Citizen developer
After a training session, the business user or citizen developer designs an personal automation process and configures operation and security, together with other experts if necessary.

RPA admin (IT)
The administrator operates and maintains the RPA solution to ensure smooth operations.

Security, risk & compliance manager
Depending on the size and structure of the organization, there may be quality, safety, risk & compliance officers. If not, someone in the RPA team should take these on to ensure that relevant requirements are met.
RPA Collaboration as Part of X1 Lifecycle Management
---
With the X1 platform, you can manage and control individuals and all RPA teams in your organization. This collaboration is part of Servicetrace's industry-unique lifecycle management, which designs and implements process automation holistically, end-to-end.
This holistic approach encompasses the various project and lifecycle phases of an RPA project, as well as the parties involved.
The focus here is on goal-oriented, transparent, and thus successful collaboration – without media discontinuities and across national borders.
More about X1 Lifecycle Management