Higher, faster, further: The X1 platform is being dynamically further developed. Since its introduction, there have been many new features, a few of which are briefly introduced here. Below: Extensive scheduling capabilities for RPA execution, incredibly simple Excel handling, and great features for higher-value, more efficient workflow design.
RPA by schedule: With X1, you can now schedule the execution of your process automation in three dimensions. With the help of:
Process service times: When should the process be executed?
Bot runtimes: When should the X1 Bot work?
Application downtimes: When are applications such as SAP, Office 365, Salesforce that the bot accesses not available?
With these schedules, you can not only improve planning, but also optimize execution and operation and thus the stability of your process automation. If applications are not available due to installations or new releases, you can configure them with X1 in just a few clicks – or, if you have an appropriate IT service management tool, you can automatically import them via an interface. This ensures that process automation execution does not fail because X1 bots cannot access certain applications.
Never lose track: Execution Timetable and Advanced Runtime Analysis
The "Process Operations Plans" module provides you with a clear "Execution Timetable" so that you don't lose track of the various run times, service times and downtimes with these diverse scheduling options. There you will find an overview of all productive processes as well as an analysis of the net process runtimes.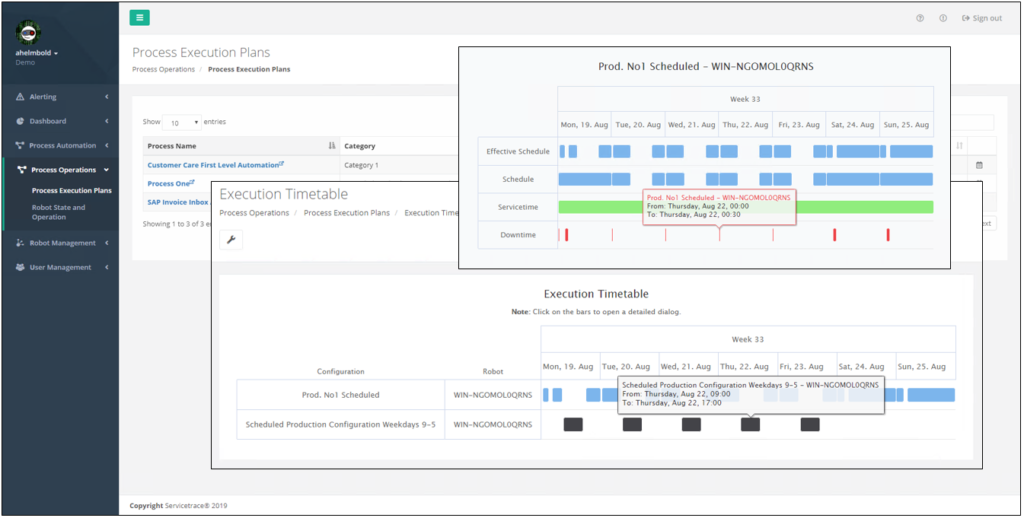 By the way, we have also improved the handling of global (cross-process) variables. These enable you to manage cross-process variables for all processes and workflows centrally and efficiently. Tax rates are an example of global variables: The VAT rate of 19 percent can be found in Automation Workflows in your finance department. If this tax rate changes, you can use the global variables to adjust it quickly and easily in a central location – instead of having to search through and adjust each individual workflow for the VAT variable.
String Operations: More editing options for long strings
IBANs, tax and invoice numbers are just a few examples of long strings. Most such strings have a fixed structure like tax numbers. You only need a part of the strings for some activities? Or is there a change in their structure? All this can now be handled flexibly and easily using the extended functionalities in the action step "String Operations".
The processing of Excel lists and tables occurs in almost every process. The new "Excel controlled loop" means that the contents of an Excel table are first read completely into a corresponding variable array, which can then be processed row by row directly via the array variables. This means that Excel operations will be performed more efficiently in the future because there is no need to constantly access Excel files to read out the individual data records.
More efficiency in workflow design
The new action block "Workflow Finalization" offers you a further gain in efficiency and quality. This serves as a fixed module at the end of a workflow. In it, you standardize the tasks that are to be performed each time at the end of an automation process. These can be actions based on the workflow run result (if the workflow was successful, then path A, it was not successful, path B, etc.) or logging or cleanup tasks.
Last but not least: The current User Experience optimizations
You can also enjoy visually and functionally reworked views, which now provide the user with all the information he needs even more clearly:
New list views for categories and processes
Filter options in the area of "process evaluation
Extended change log information available
Revision of the BPMN Modeler in the design phase
Revision of the "Robot State and Operations" division
Individual workspace per user.
Further questions? Join our community forum here https://www.servicetrace.com/en/forum/ to our community forum.