June 24, 2019BlogRobotic Process Automation, Intelligent Automation
"Successful automation requires an industrialised approach" – an interview with Andreas Lüth, partner and head of the European automation business at consulting firm ISG
According to ISG, many companies underestimate the complexity of RPA. What makes this topic that sounds so simple, so complex?
Robotic Process Automation is often promoted as simple. Yes, it's true that a good RPA tool doesn't require any programming knowledge. It's easy to learn and use, which is an important factor for wide adoption and propagation in an organization. However, the complexity of RPA lies in the strategy, the governance and a structured approach – and this is often underestimated. Many companies only discover the complexity of RPA when they have already completed several automation projects. They then realize there is much more to this challenge, for example, if a company has already implemented several bots and then notices operations are not running smoothly and they can't scale the automation.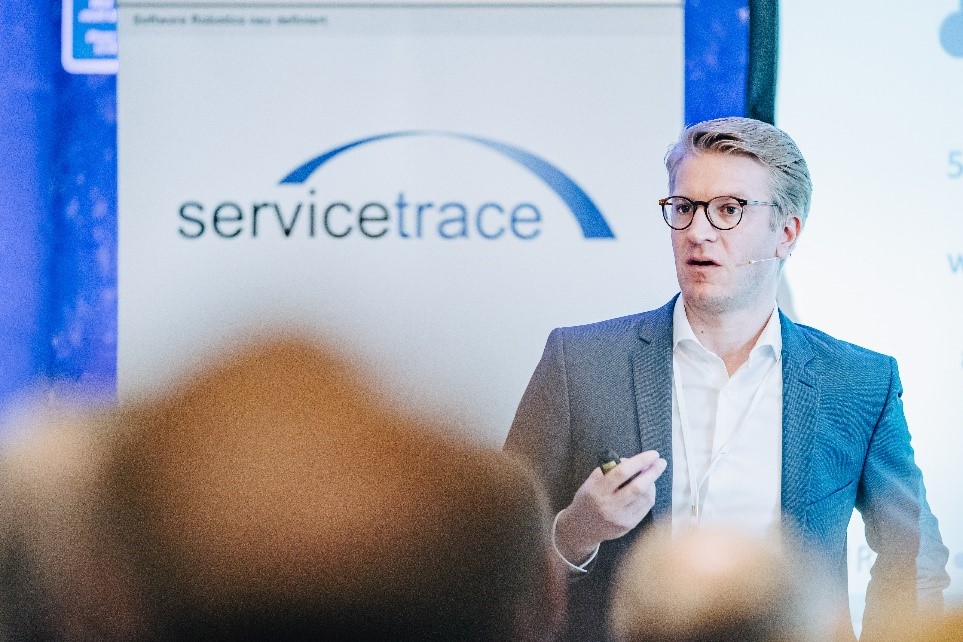 Can you give a concrete example of RPA complexity in practice?
A frequent problem is that IT is not involved or not involved early enough, especially when it comes to the operation and maintenance of bots. For example, automation must be aligned with the IT change management process. If software applications that the RPA robot accesses are updated by IT, the execution of the process automation can be disrupted. Unfortunately, RPA users are often only gradually becoming aware of such strategic requirements of RPA and of the fact that they are more complex than originally thought.
What is needed for sustainable and successful automation?
An overall, holistic approach and an industrial, RPA-factory approach – so how can I set up automation strategically and structurally and then "put it into production" and scale it? The good news is: IT is already familiar with and has been using these approaches for a long time! It's true that RPA is often driven by business – because the process expertise lies in the functional departments and RPA is a great way to increase effectiveness and efficiency. That's why business should have control – but IT must be involved, because IT already follows these best practices. This IT expertise can bring huge benefit to the business – and lead automation to success.
In addition to the close integration of IT, successful automation requires clarification of what the automation strategy looks like, which assessments are required in advance, and the benefits expected. Unfortunately, such a group-wide approach to automation has so far been rare. This would require a central automation officer who controls and scales the complete automation initiatives and therefore, the extent of automation within the organization too.
ISG advises companies on the implementation of automation. In your experience, what are currently the biggest "pain points"?
The biggest pain points concerning the successful implementation of automation are the soft and hard skills and the choice of the right automation platform.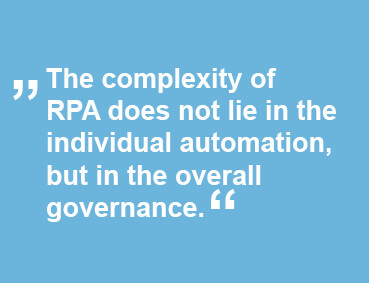 Automation is still met with some resistance, even though studies have shown it's not primarily used to cut jobs. Companies should also invest in communication and change management in order to take their employees with them on the automation journey and be part of the cultural change. We've had very good experience with modern approaches such as gamification, where employees build their own bots on internal automation roadshows, for example.
With hard skills: RPA pioneers are currently experiencing huge frustration because they fail to scale after the first successful RPA projects. Often, the technology is used as a scapegoat, but the main reason for failure is the lack of governance, i.e. the lack of control of automation.
Another pain point is choosing the right automation platform. Companies must define their own individual requirements. And they need a platform that enables them to implement and manage all phases and forms of automation. For effective RPA, these platforms should also include technological competencies such as image recognition or optical character recognition (OCR), chat or voice bots as well as decision-making components.
What are the three most important tips you can give to companies that want to start using RPA now?
1. Don't just think about RPA, think about automation and think about processes first. Only then should you choose the technology.
2. Take the organization with you and proactively involve it. You need good and clear communication about what is possible – and what is not possible – with automation.
3. Think about your strategy directly after the pilot. What do you want to achieve and what vision do you pursue? Do you need an easy-to-use tool or one that is capable of managing many automations in the long term? Such considerations bring focus to your requirements and ensure that investments, tools and training are sustainable.
Why is governance so important in automation and what is important here?
Many companies that started with RPA still lack a compelling business case. But at the end of the day, users want RPA to deliver a concrete benefit, financially or in terms of quality improvement. The main problem for many users is the lack of controllability, which goes hand in hand with a lack of transparency. Because if I don't have transparency about responsibilities, status, progress and success of a topic or a project, I can neither control it nor measure its success. That's why governance – over the entire lifecycle of automation projects – is so critical to success. To do this, companies need automation platforms that offer a comprehensive approach with transparency and governance.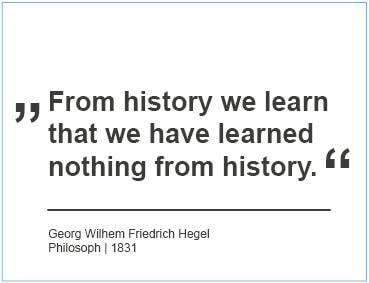 X1 from Servicetrace offers a unique lifecycle approach: Why is it important for automation projects to support all lifecycle phases?
The lifecycle management offered by Servicetrace's X1 platform covers all phases of an automation lifecycle and project. ISG also thinks in terms of a lifecycle that is essential for successful automation. The lifecycle stands for a holistic approach, automation itself is really thought of as "end-to-end". The integrated lifecycle approach makes it possible for users and customers to –a) automate processes in their entirety; andb) think about, set up and implement automation in a structured manner – something they will benefit from in the long term.
Keyword Intelligent Automation: Which developments and trends do you see as particularly relevant here?
Intelligent automation is very relevant. For the current ´status quo` of automation, which simply follows rules, intelligent automation is the next step towards artificial intelligence. At present, the topic of intelligent automation revolves around teaching software robots how to read – via optical character recognition, OCR. In the future, the topic will develop very broadly, because there is no such thing as "the one" artificial intelligence. Instead, there will be a variety of technology solutions that contain AI components and offer solutions.
I assume that artificial intelligence will simplify and accelerate the identification and capture of business processes in particular with regard to process automation. This will also make it easier or possible to develop business-process-specific solutions or to automate very industry-specific processes more quickly.
About ISG
ISG (Information Services Group) (Nasdaq: III) is a leading global technology research and consulting firm. ISG is the trusted business partner of more than 700 customers, including more than 70 of the world's 100 largest companies. The company specializes in digital transformation services, including automation, cloud and data analysis, change management, market intelligence, and technology research and analysis. ISG was founded in 2006 and employs more than 1,300 digital professionals working in more than 20 countries. More information: https://isg-one.com/.
Pictures:
Andreas Lüth, partner and head of the European automation business at the global technology and consulting company Information Services Group (ISG), at Servicetrace Robotic Days 2019.