Many first RPA pilot projects are experiencing disillusionment. Market analyst Gartner also notes that organizations underestimate the complexity of robotic process automation. Servicetrace therefore developed an RPA platform that reduces this complexity: Through an integrated lifecycle management that is unique in the industry. This enables you to manage every life and project phase of RPA – fully transparent enterprise-wide.
The lifecycle for RPA developed by Servicetrace is the heart of the automation platform XceleratorOne (X1): On the one hand, the lifecycle maps the different phases of RPA projects. On the other hand, the lifecycle automatically guides X1 users step-by-step through automation process. This means that every user, respectively each RPA projects runs through the lifecycle automatically – with the result of a successful project.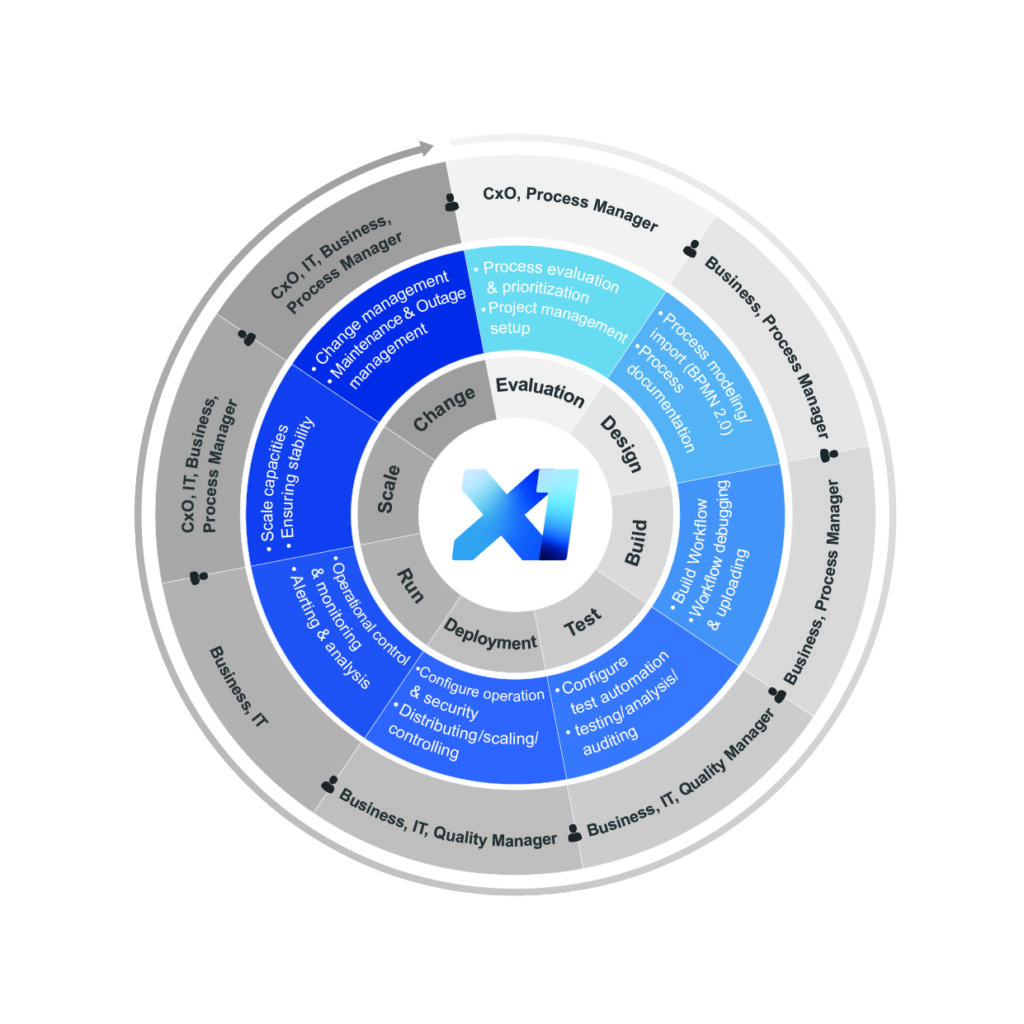 How can a lifecycle guarantee RPA success?
By structuring the entire process of process automation and thus standardizing the approach to RPA in an organization. This is a particularly important lever in the enterprise-wide roll-out of RPA: Many different company divisions and users work with the RPA solution. A common structure and a standardized approach on the same central platform reduces complexity and creates transparency – and the X1 lifecycle enables you to manage all your RPA projects company-wide.

Lifecycle management: holistic thinking and implementation of process automation
In business process management (BPM), one speaks quite naturally of "end-to-end", i.e. the complete recording of a process from the trigger to the result. The starting point for RPA is always the existing business process – so why not transfer the holistic "end-to-end" approach to RPA? Through the integrated lifecycle approach, X1 functions as the central platform for the complete planning, implementation and control of all phases and participants of RPA projects.
The lifecycle of X1 begins with the phase evaluation and thus with the two most important questions you should ask yourself before every RPA project:
Which process is suitable for automation?
–> Using several defined criteria and a simple slider evaluation matrix, you can check which processes are suitable for RPA.


What is the added value of automating this process?
–> The evaluation matrix also checks which benefits you achieve after process automation.


The X1 lifecycle currently comprises eight phases – from evaluation to phases such as design, test, run, scale and change. Successful process automation does not end with the go-live: With X1, you can monitor, analyze and optimize the running process automation – and easily align it with the IT change process. X1's unique lifecycle management fulfills the relevant requirements at all organizational levels:
The

holistic, successful implementation of RPA

projects in all lifecycle phases,
the

strategic overall management of all automation

projects,
high

audit and compliance capability

through traceability of every action.

Learn more about the lifecycle management in our webinar ´Automation Journey` – or on our XceleratorOne web page.