No bots without people: we love our team.
In this blog series we portray each month people and their daily business at Servicetrace.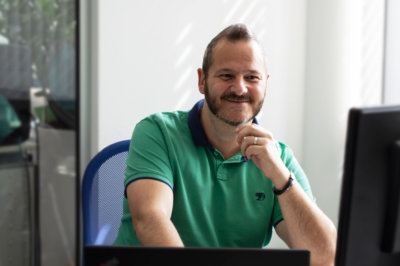 "Hi, I'm Gerald. I am responsible for the IT infrastructure in our company. I take care of the running systems in our locations in Darmstadt and Mannheim as well as doing all other administrative jobs."
BACKGROUND
What did you do before you joined Servicetrace?
I worked for an IT-Service-Provider at Frankfurt Airport. The activities were very similar to mine today, I took care of the infrastructure and network and just made sure that everything was running smoothly. When my temporary employment contract expired and the IT administration was outsourced, I took the opportunity and switched to Servicetrace.
FUN




What do you enjoy most about your job?
I definitely like the variety of tasks: there are new projects and challenges every day. This requires thinking along and thinking ahead in order to solve tasks.The team spirit, the colleagues and the environment enable me to work independently and productively.
CHALLENGE




What challenges you, which tasks do you find particularly exciting, which activities can you develop on?
What is fun also challenges me: there are new tasks and activities every day. Our company is growing, IT must grow with it – and I am growing with these tasks.
CULTURE




How would you characterize the work environment?
I consider the teams, the colleagues, great, and we harmonize very well. We don't nurture individual competition, we play fair and we support each other.
HIGHLIGHTS




What are your highlights at work?
What makes me really proud is working on a project, leading it to a solution or concluding it positively. This also allows me to grow beyond myself within the company – it makes me happy to find the right way to solve a problem and to discover further optimizations.