While we are naturally talking about industry 4.0, one would have to consider what was the last revolution in everyday office life. Outlook? There are many great tools and apps that show the evolution of digitalization. A revolution could be automation. After automation in production, the trend is reaching the offices with topics like robotic process automation (RPA). And the potential is immense: while the degree of automation in factories has risen by 75% since 1980, office automation has only risen by 3% in the same period. The McKinsey Global Institute predicts that 30% of all tasks can be automated – and robotic process automation is one way to do this.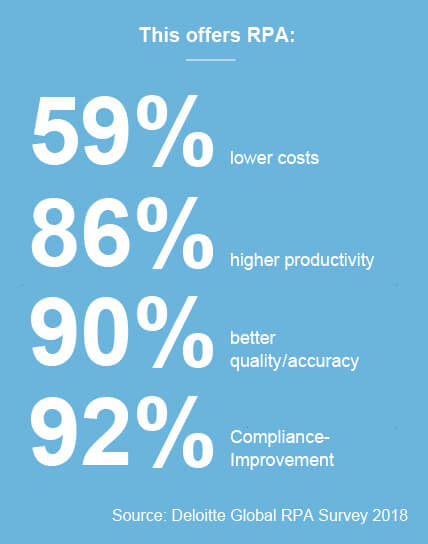 According to various studies, the potential of RPA for businesses is large and diverse. In its Global RPA Survey 2018 (the third consecutive study on RPA), Deloitte talks primarily about cost reduction, higher productivity, better quality and accuracy, and compliance improvements – by more than 90%.
In addition, RPA projects pay for themselves in less than twelve months, according to the consultancy – in our experience even significantly faster in some cases. Because of the convincing increases in effectiveness and efficiency.
What are obstacles?
According to forecasts, around three quarters of companies will already be using RPA by 2020. At the same time, many still ask themselves how process automation can be successfully tackled and implemented. In fact, many seem to underestimate the complexity of RPA.
Even though many manufacturers of RPA solutions advertise their easy-to-use approach, the key to success is to plan and set up RPA projects correctly.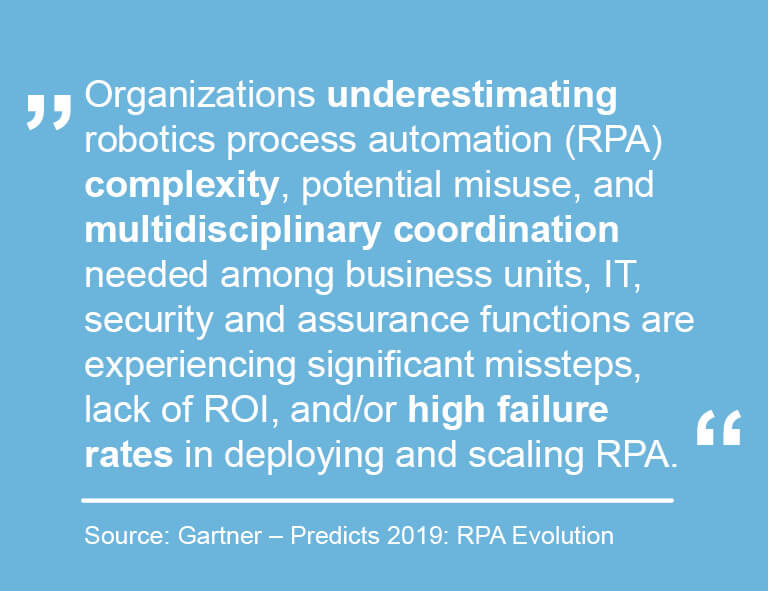 According to EY (Ernst & Young), almost every second RPA project initially fails (35-50%).
The reasons for this:
– No governance
– Lack of transparency
– Underestimated complexity
– Lack of collaboration
– No scalability
What should you look out for at RPA?
The simple operation of an RPA solution is of course an advantage: The added value of RPA increases the more people in an organization are capable of it and can automate "their" processes themselves. But to avoid chaos in the sense of uncontrolled actionism and self-crafted isolated solutions, you should consider the following:
– One standard platform for everyone: Instead of many different solutions, you rely on a central automation platform for the entire lifecycle of RPA projects.
– Full transparency: For a successful project, those responsible must have knowledge of the status, progress, the team, etc. This requires RPA solutions that enable full transparency – across one project as well as across all RPA projects (holistic view).
– Central governance: Transparency has a positive influence on the ability to manage: I can only manage what I am aware of. With your RPA solution, make sure that you can control projects centrally. This is the only way to really proceed the automation of your organization.
– Close cooperation: Always think and act in an interdisciplinary manner when it comes to automation and involve the various experts from the business and IT sides at an early stage. Make an exchange possible, because RPA is complex: from C-level, business department, key users, risk, compliance and quality, to data protection and IT – you have to involve everyone. If one tool support collaboration, so much the better.
– High scalability: Once you've had your first successes, there are other areas waiting in line. And then there are questions like: How can I roll out and scale RPA company-wide? How do I get more automation capacity and what do they cost? Check RPA's scalability and cost of ownership when selecting vendors – even if you don't see the need yet. It will come and pay off.
Learn more about the central automation platform XceleratorOne (X1) from Servicetrace.
RPA best practices like the ones can be found in our Robo-Blog.