The Technische Universität Darmstadt, the August-Wilhelm-Scheer Institute (AWSi), Deutsche Telekom Service and Process Analytics Factory have formed a research consortium under the leadership of Darmstadt, Germany based robotics specialist Servicetrace. The goal of the research project is to further develop the intelligent automation of business processes. The two-and-a-half-year project called AI.RPA (from the German KI.RPA or 'Künstliche Intelligenz') has received funding from the German Federal Ministry of Education and Research.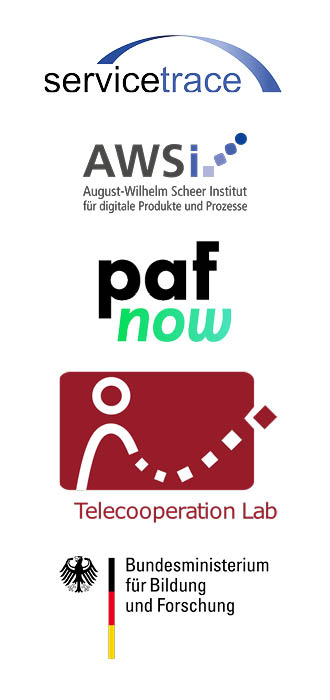 Darmstadt, 4 February 2019 – Everyone is talking about Artificial intelligence. The AI.RPA research project aims to apply this technology to real-world useful scenarios. The five partners of AI.RPA are specifically involved in the development of self-learning software robots combining Artificial Intelligence (AI) with two other disciplines, also at the leading edge of technology today: Robotic Process Automation (RPA) and Process Mining.
The vision is a system that automatically recognizes and automates recurring business processes
Automation has already brought huge benefits to industrial production and now software robots also enable the automation of repetitive, rule-based computer-based processes in the office (RPA). Key to the success of this is to identify and document the business processes very accurately, involving major initial effort before automation can actually start. Process Mining is a technique for analyzing and mapping an organization's business processes based on digital traces.
"The aim of the research project AI.RPA is to develop an innovative software system that captures and analyzes human interaction with the computer from the point of view of the user. With this information, the system will then be able to use machine-learning techniques to independently identify, design and automate a process flow – a self-learning system," explains Markus Duus, CEO of Servicetrace GmbH.
The benefit: quick and easy process automation – even for medium-sized enterprises
The German Federal Ministry of Education and Research (BMBF) supports the research project AI.RPA as part of its funding initiative for innovative SMEs "KMU-innovativ". The project aims to provide intelligent process automation to mid-sized companies through the combination of advanced technologies so that even smaller businesses can benefit quickly and easily from this innovation.