RPA projects usually pay for themselves quickly. However, operating and scaling costs can quickly become a cost trap. Therefore, prudence is required when purchasing RPA: Companies should check the full costs for operation and scaling in advance – depending on the project size, more than six-digit euro amounts are involved each year.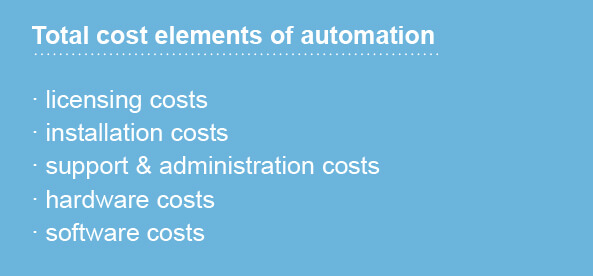 The advantages of Robotic Process Automation (RPA) are convincing: According to Deloitte, RPA projects pay for themselves within less than twelve months.
In addition to the pure acquisition costs, RPA purchasers should take a close look at the ongoing operating costs. These can quickly become a cost trap: If 50 robots are used, companies with a cost-efficient and fair RPA solution can save an annual six-figure euro amount. With an even larger number of RPA robots, the costs saved quickly add up to millions each year.
Calculating operating costs and scaling requirements in advance
Before purchasing, review all elements of the total cost, including annual operations and scaling. HFS Research stated in 2019 that only 13% of companies have effectively and efficiently scaled their automation. However, to deploy and roll out automation across the enterprise, companies need a highly scalable and cost-effective RPA solution, rather than many silo solutions or island projects.
So think about the future when you buy and take full operating costs and possible scaling into account. Even if this is only an example at the moment, you will quickly gain insight and transparency into the functionality and cost structure of the RPA solutions and offers available to you.
Example calculation: With X1 you save 80% of your operating costs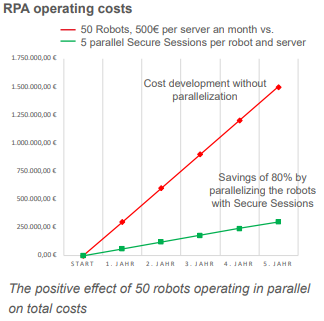 Most RPA providers quote the average full operating cost for a single RPA robot (workplace only) at 500 euro per month. With 50 robots, the costs for the robot workstations only add up to a market average of 300,000 euros pure operating costs per year.
The automation platform XceleratorOne (X1) offers a very cost-efficient operation and scaling approach. Using a multiple-patented technology, X1 is able to run several automation sessions in parallel on an RPA robot or robot workstation. This "parallelization" (vertical scaling) saves companies massive costs in both operation and scaling. This is because parallelization enables optimum utilization of the existing infrastructure, such as hardware and software, software licenses, etc..
If the above example is calculated with 50 RPA robots with X1, the operating costs are only 60,000 euros per year – instead of 300,000 euros. This corresponds to 80% less operating costs.
Companies can already save 240,000 Euros per year by using 50 RPA robots due to the special operating mode and the unique scaling approach of X1.
Arrange a personal appointment or subscribe to our newsletter "Robotic News".
Further information on operating and scaling costs can be found in our X1 Secure Session brochure.
Read more case studies and customer references about Robotics Process Automation in our blog.
Sources:
Deloitte: deloitte.com/bg/en/pages/technology/articles/deloitte-global-rpa-survey-2018.html
HFS Research: www.hfsresearch.com/pointsofview/state-of-intelligent-automation-2019